Welcome to Consumers Propane & Bousquet Oil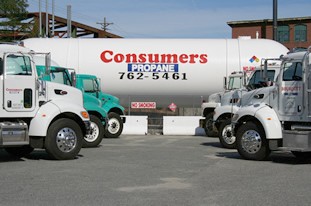 Consumers has been a family owned and operated full service business since 1919. We provide affordable, dependable oil and fuel delivery, heating system installations and service to homes and businesses throughout Northern Rhode Island and Southeastern Massachusetts. We offer only high quality products and expert service to meet the needs of our customers, at a fair and competitive price. We are fully licensed and insured. Our employees are properly trained and qualified to insure total customer satisfaction.
Customer Service
At Consumers Propane & Bousquet Oil, we always focus on customer service.  You will never be just a number to us! We pride ourselves on knowing our customers on a first name basis.  More importantly, we will get to know what your heating needs are and render the personal service you expect.
Services
As a full service company, we offer the best overall services in our industry such as:
Automatic propane and oil delivery
Installation of propane and oil  heating & air conditioning equipment
Annual tune-ups for peak efficiency
24 hour emergency heating service
Price protection programs
Budget programs
Equipment
Our company installs and services a full line of propane equipment including:
Goodman Furnaces
Rheem Heating Equipment
Empire Space Heaters
AO Smith Water Heaters
Rinnai Tankless Water Heaters
Our company installs and services a full line of oil equipment including:
Weil-McLain< Boilers
Biasi Boilers
Williamson Boilers and Furnaces
Olsen Furnaces
Weil-McLain Indirect Fired Water Heaters
Bock Water Heaters
Our company installs and services a full line of Central Air Conditioning equipment including:
Goodman
Rheem
York
Sanyo Ductless Systems
24 Hour Emergency Heating Services For Our Customers
24 hours a day, 7 days a week, 365 days a year!
For emergency heating services please call our office.

Our office hours are Monday – Friday 7:30 AM to 4:30 PM.

Our gas station hours are:
Monday - Friday  6:00 AM to 7:55 PM
Saturday - 7:00 AM to 7:55 PM
Sunday – 8:00 AM to 3:55 PM