Propane Services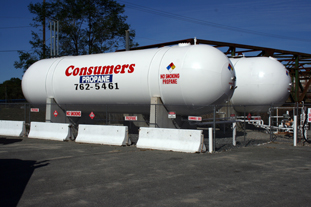 For the warmth and security of your family and your home…
Consumers Propane is a full service company
Consumers Propane delivers propane gas to Northern Rhode Island and Southeastern Massachusetts customers at a competitive price. Our fleet of propane delivery trucks and our bulk storage facility provide an ample supply of propane gas to your home or business for all of your propane needs. We have highly trained and qualified propane gas technicians and offer emergency heating service twenty four hours a day, seven days a week. Propane can be stored in various sizes of steel tanks that can be installed above ground or below ground. The size of the steel tank will depend upon your propane appliance requirements.
Did you know that propane burns cleaner than many other fuels?  Did you know that appliances powered by propane use less energy and save you money?  Did you know that besides being one of the most efficient fuels, it is one of the cleanest?
When you add propane to your home, you will not only see the savings rack up but you will also enjoy a more comfortable lifestyle
Equipment:   Our company installs and services the following equipment:
Goodman Furnaces & Air Conditioning
Rheem Heating & Air Conditioning
Empire Space Heaters
AO Smith Water Heaters
Rinnai Tankless Water Heaters
Services:
Price protection programs
Budget programs
Automatic propane delivery
Installation of propane heating systems and water heaters
Annual tune-ups for peak efficiency
24 hour emergency heating service
Above & below ground storage tank installation
Above & below ground gas piping installation
Air conditioning systems
Please contact us for any of your propane needs.  Our friendly and knowledgeable customer service representatives will set up an appointment so you can discuss the propane options available to you.