Oil Services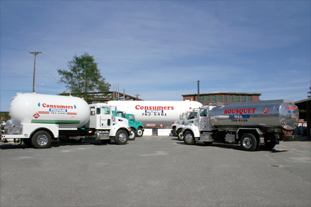 For the warmth and security of your family and your home…
Bousquet Oil is a full service, family owned and operated environmentally sensitive oil company providing products and services of the highest quality to our Northern Rhode Island and Southeastern Massachusetts customers. Our fleet of oil delivery trucks will provide an ample supply of heating oil to your home or business. In fact, with Bousquet Oil's automatic delivery service, you will never have to worry about heating your home.
Our ability to exceed our customers' expectations by our caring and committed staff, has earned us the reputation of being the best in our business! We are dedicated to maintaining the personal touch and quality care only a local family run business can provide.
Our mission is to be a premiere home fuel supplier, provide expert service, and meet the needs of our customers at a fair and competitive price.
Equipment:   Our company installs and services the following equipment:
Weil-McLain Boilers
Biasi Boilers
Williamson Boilers and Furnaces
Olsen Furnaces
Weil-McLain Indirect Fired Water Heaters
Bock Water Heaters
Services: 
Price protection program
Service contracts
Budget programs
Automatic oil delivery
Installation of oil heating systems and water heaters
Annual tune-ups for peak efficiency
24 Hour emergency heating service
Air conditioning systems
Please contact us for any of your oil heating needs.  Our friendly and knowledgeable customer service representatives will set up an appointment to discuss the oil options available to you.
Service Contract
The BASIC Plan
This is a one year contract that covers parts and labor pertaining to oil burner service; emergency night and week­end service, annual cleaning and tune-up consisting of replacement of nozzle and oil filter; adjusting burner controls; inspecting the interior and removing any soot by vacuum or chemical procedures.
Parts which are covered:
Air defuser
Aquastat
Airstat
Anti-hum valve
Barometric dampers
Blower fan belt
Blower motor
(belt driven only)
Blower bearings
Blower pulley
Burner switch
Burner fan
Burner fuses
Burner motor
Cad-cell relay
Cad-cell eye
Delayed oil valve
Electrodes (set)
Electrodes holder
Electrical fuse
Emergency switch
End cone
Fan control
Firomatic electric valve
Firomatic oil valve
Firomatic switch
Fuel oil canister
Fuel pump coupling
Fuel pump gasket
Fuel pump one stage
Fuel pump two stage
Fuel pump strainer
Gauge glass only
Gauge glass washers
Ignition cable
Ignition transformer
Low limit control
High limit control
Master control
Nozzle
Nozzle line
Nozzle adaptors
Oil cartridge
Oil line-above grade
Oil check valve
Oil tank basement only*
Pressure control
Stack control
Tank valve
Tank gauge
Thermostat (non- programmable)
Vent alarm
The BASIC Plan does not cover any water related parts, water leaks or water heaters.
The PREMIUM Plan
This plan includes all of the items from the BASIC Plan, plus the following:
Air scoop
Air vents
Check valves
Circulators
Circulator bearing assembly
Circulator complete
Circulator coupling
Circulator flange gaskets
Circulator impeller
Circulator motor
Circulator relay
Dual valve
Expansion tank
Feed valve
Gauge glass cocks
LWCO float
LWCO switch
Low voltage transformer
Mixing valve (element only)
Pop safety valve
Pressure reducing valve
Pressure relief valve
T P gauge
Zone valve complete*
Zone valve motor*
Zone valve powerhead*
Zone valve relay*
Zone valve stem*
Zone valve transformer*

*Hot water system only
**Parts not covered by service contracts are subject to a labor charge.