Generac Standby Generator - Guardian series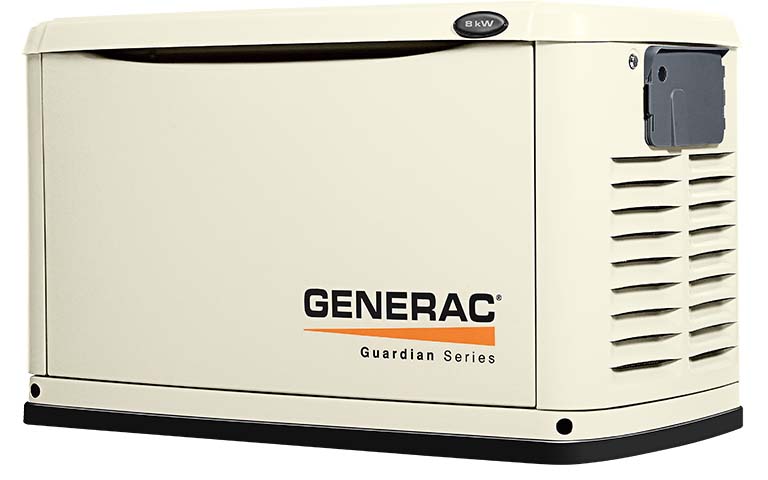 Purchasing a Generac automatic standby generator is one of the best investments a homeowner can make. We provide service, sales, and installation of Generac standby generator models within the states of ( RI ) and ( MA ). Having "piece-of-mind" is priceless! Imagine that your power goes off and your new standby generator starts and powers your home or business immediately, it is that easy...
We specialize in the Guardian Series of Generac standby generators for residential to light commercial applications. When you purchase a Generac standby generator, our highly trained specialist will come to your home or business and properly install your generator. These generator systems have the capability to power the main essentials, all the way up to your whole home or business. Here are the specs of the Guardian Series Standby Generators.
Model
Guardian Series Air-Cooled
kW
8
11
14
17
20
Engine
OHVI
410cc
OHVI
530cc
HVI
992cc
OHVI
999cc
Quite Test
No
Yes
Enclosure
Steel
Steel or Aluminum
Aluminum
We provide service to all of our Generac standby generator customers in ( RI ) and ( MA ).
How it Works
If your power goes out, your generator comes on- automatically. It's really that simple.
Utility power is lost.
Generator automatically detects a problem.
Generator automatically turns on.
Electricity is automatically restored.
Don't be left in the dark. A power outage can happen at any inconvenient time! If you have any questions concerning a Generac standby generator, or how to properly size a standby generator, please contact us today.